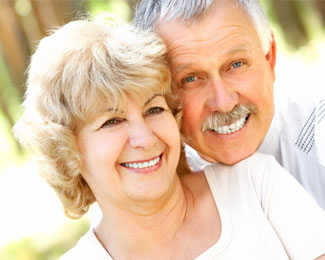 We often see patients who have suffered damage to one or more of their teeth from trauma or advanced decay looking for a procedure to restore form and function to their smiles. In many cases, dental crowns placed at our Las Vegas practice offer an ideal solution.
A crown is a dental prosthetic that is custom-designed to fit over and cap your damaged tooth. Crowns can also be used to anchor a dental bridge or attach to a dental implant to replace the entire structure of a tooth.
Dr Jason L. Downey provides his patients with restorative options to restore their bite's strength and appearance. To learn more about how you can benefit from a dental crown, please contact our office to make an appointment with Dr. Downey.
Aesthetically Designed Restorations
Dental crowns are custom-designed to fit over your existing teeth and blend seamlessly into your smile. Crafted from the finest porcelain materials, crowns have similar translucent properties to natural teeth and reflect light in the same way.
The skilled technicians that produce our restorations will create beautiful crowns that match the color, shape, and size of your natural teeth. In fact, today's crowns are so lifelike that they are often the preferred method to conceal aesthetic imperfections, such as misshapen teeth. Dental crowns are extremely durable and, with proper care, can last a lifetime.
Placing Your Crown
When you come in for your first appointment with Dr. Downey, he will assess the current condition of your teeth and make a recommendation for your treatment plan.
If your crown will be attached to a dental implant, your treatment may include other preparatory work in addition to your surgery. For teeth that have suffered advanced decay, a root canal procedure is often required before a dental crown can be placed. In all cases, any areas of decay must be removed. The teeth and gums will also be cleaned to eliminate any bacteria.
Once the tooth is prepared to accommodate the width of the restoration, an impression will be taken that will be used to design your customized dental crown. This will ensure that the restoration fits snugly in place and will not interfere with your bite or surrounding teeth. Dr. Downey will construct a temporary crown that you will wear while your permanent restoration is being produced.
When your crown is ready, typically one to two weeks after your preparatory work has been completed, you will come back to our office to have it bonded in place.
Same-Day Crowns
For some patients, our same-day crowns are often a wonderful way to restore their teeth! We are proud to offer CEREC technology for your restorative treatment.
Depending on your needs, we can produce a unique crown in our very own office using our CEREC machine and place it in the same appointment! You can quickly restore your smile in a single visit to our Las Vegas dentist office!
For more information on CEREC, you can learn more on our CEREC page.
Insurance Coverage
Because dental crowns are commonly used as a restorative measure, many dental insurance plans will cover all or at least part of the total cost of your treatment. Our friendly office staff will be happy to review your insurance coverage with you to determine what benefits you may be eligible for.
Schedule an Appointment
To learn more about how a dental crown can restore your smile and appearance, please contact our office to schedule a consultation with Dr. Downey.