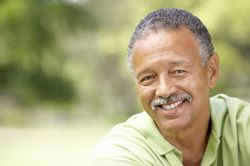 Missing teeth can make essential day-to-day functions like chewing and speaking incredibly difficult. If you are suffering from a compromised smile, dentures provided by Las Vegas, NV dentist Jason L. Downey can restore comfort and function and improve your quality of life.
Dr. Downey provides both traditional and implant-supported dentures. You and Dr. Downey will work together to determine which solution is best for your needs. To schedule an appointment at our friendly dental practice, contact us today.
Traditional Dentures
Dentures replace a full or partial arch of missing teeth. They consist of artificial teeth on an acrylic base colored to blend with the gums. Traditional full dentures rest on the gums, held in place with suction and mild adhesive. Partial dentures are usually held in place by clasps that attach to surrounding teeth.
Creating Traditional Dentures
Traditional dentures take approximately three to six weeks to complete. First, Dr. Downey will take impressions of your jaws and evaluate their alignment. Based on these impressions, he will make a model of your dentures with wax and plastic forms. He will have you try on the model so that so you can test the comfort and appearance. Based on your feedback, Dr. Downey can make small adjustments to achieve the best fit.
Benefits of Traditional Dentures
Once you get used to wearing your dentures, you will be able to chew and enunciate properly. A denture will also restore proper balance between the jaws to provide a healthy facial appearance.
Modern dentures are a major improvement over those used in the past. Made with newer materials and refined manufacturing techniques, they fit better and look more natural than ever before!
Implant-Supported Dentures
Dental implants are small titanium posts used to replace lost tooth roots. They fuse directly to the jawbone to provide unparalleled support for dentures and other restorations.
Like traditional dentures, implant-supported dentures can replace a full or partial arch of teeth. You can choose to have your denture permanently attached or removable.
Creating Implant-Supported Dentures
Dr. Downey performs all stages of implant treatment, so you can complete the entire implant dentistry process in one office. Placing dental implants can require two or more surgeries over the course of four to six months, and Dr. Downey can provide temporary dentures to wear as you heal.
Your permanent implant-supported denture will be carefully crafted to look natural while providing outstanding comfort and function. When the dental implants are fully integrated, Dr. Downey will attach your denture.
Benefits of Implant-Supported Dentures
Implant-supported dentures offer several important benefits. While traditional implants can slip out of place while chewing or speaking, implant-supported dentures remain firmly in place, so you can eat foods such as steak and corn on the cob.
Dental implants are the only restorative dentistry treatment that can prevent the jawbone atrophy (shrinkage) that occurs following tooth loss. This means that implant-supported denture wearers typically do not need to have their dentures adjusted because of a change in the shape of the jaw.
Learn More
If you are missing teeth, our dentures can restore your smile and help you experience greater comfort and confidence. To learn more or to schedule an appointment with Dr. Downey, please contact us today.